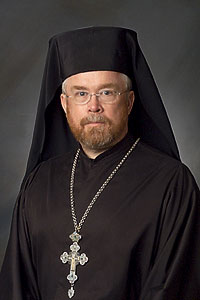 Yesterday  night' January 27 at 7 PM we had the extraordinary opportunity to host a special session of Gladsome Light Dialogues having as guest Archmandrite Meletios' the Abbot of St. John of St. Francisco Monastery in California.
Archimandrite Meletios (Webber)' of Scottish background' was born in London' and received his Masters degree in Theology from Oxford University' England and the Thessalonica School of Theology' Greece. He also holds an E.D.D. (doctorate) in Psychotherapy from the University of Montana' Missoula.
He is the author of two published books: Steps of Transformation; an Orthodox Priest Explores the Twelve Steps of Alcoholics Anonymous (Conciliar Press' 200'); and Bread and Water' Wine and Oil; an Orthodox Christian Experience of God (Conciliar Press' 2007).
Fr. Meletios talk "Being Present in the Presence: Heart and Mind in the Practice of Prayer"
Attached are the audio files from last night
Arch Meletios Webber_1-28-2010
Arch Meletios Webber_1-28-2010-Q&A
More audio with Archmandrite Meletios at Ancient Faith Radi0
Being Present in the Presence - Archmandrite Meletios (Webber)
'
Tags: heart · Meletios · mind · nous · orthodox · presence · rayer · steps · Weber2 Comments