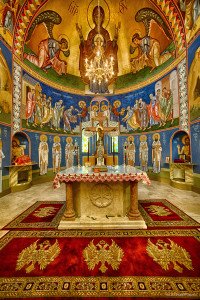 Every year, in the first Sunday of Lent, we celebrate our Orthodox heritage. It is a wonderful festivity involving a touching procession with icons, lifted up high, around the church and ending in the declamatory proclamation of the Synodikon of Orthodoxy.  Since we do it every year, it became so engrained in our fiber that we rarely stop to ponder about what does it really mean to us. It is important to know, after all, what we celebrate; otherwise it makes no sense to go on with a party that we know nothing about.
So let me start by asking you a simple question. What is Orthodoxy to you? A place called… Continue reading
Tags: Great · iconography · Icons · lent · orthodox · orthodoxy · Sermon · SundayNo Comments.