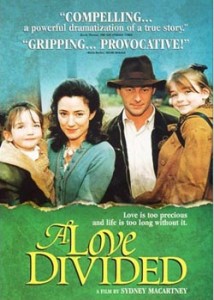 LOVE CONQUERS ALL; But for decades a village paid the price of
AMANDA DOHERTY
IT was one of Ireland's most shocking episodes. The mixed marriage of Sean and Sheila Cloney hit the headlines in the 1950s when it led to the bitter Fethard-on-Sea boycott in Co Wexford.
Catholics refused to buy goods from their Protestant neighbours after Sheila refused to honour the infamous Ne Temere pledge to send her daughters Eileen and Mary to the local Catholic school. So great was the pressure on Sheila that she fled to Belfast and then Scotland with her daughters.
This prompted local priest Fr Stafford to order a boycott on all Protestant businesses in the area. And news of the shocking conflict spread all over the world. The boycott was backed by Church authorities. Protestant shopkeepers in Fethard lost customers' a Protestant music teacher lost 11 of her 1' pupils and a Catholic teacher at the local Protestant school was forced to resign.
Irish prime minister Eamon de Valera described the boycott as "ill- conceived' ill-considered and futile" and it was eventually broken when Fr Stafford bought a packet of cigarettes in a shop owned by a Protestant.
The Cloney's compelling story was recounted in the recent smash hit film A Love Divided starring Orla Brady and Liam Cunningham.
Last year the Catholic Church issued an apology' more than 40 years after the boycott took place. Local bishop Brendan Comiskey said at the time: "I wish to bring healing and closure to this sad period in our history by expressing my deep sorrow. I ask forgiveness and healing from God from all within the Church of Ireland community and from all who have suffered in any way since."
Many people in the small knit Wexford community still refuse to talk about the controversy.When the film was screened in May this year it brought back memories and reopened old wounds for many local people.
Sean Cloney' who remained a devout Catholic but stern critic of the Church's hierarchy' died last month from pneumonia.But his daughter' Eileen Kehoe' revealed that he was delighted to see the film screened before he died.
"The country's response to the film has been overwhelming. My father was pleased to see it before he died'" she said. He did make some public comment about where the film had misrepresented some historical points such as the burning of my grandfather Tom Kelly's farm and the physical violence involving sticks and guns. These events did not happen."
Eileen returned to the town with her parents and sister Mary when the boycott ended. She lives in a comfortable bungalow across the road from the farm where she grew up. Her husband Bill Kehoe' a world champion tug of war team member' runs the 125-acre Cloney farm.
"After the boycott when we returned to Fethard not a word was said about it'" she said. "Everyone smiled at each other and were as courteous as ever. My sister Mary and I grew up and moved away from the farm. I left when I was 17 and Mary left when she was 15. That was a strange time for us. We didn't know many of the children in the village or the people in the surrounding areas when we were growing up because we didn't go to school so it was quite traumatic for us. But the local people received us with gentleness and encouragement and soon we were part of the community. This was all we hoped for and it was wonderful.
"Mary and I got married and stayed in the local area and brought up our children. Neither of us went to church. I suppose we could have gone with Daddy one Sunday and our mother the next to make it even. But instead our parents opted to leave us at home. I think they decided on the action which would draw the least attention and they didn't want one church to win over the other.
Mary and I gained confidence over the years in ourselves through our involvement in the various community organisations' groups and committees in which we were active until recent years. But my father was involved in an accident four years ago and then Mary died last year.
"The film was first screened in May and once again the local people were in the public eye. It was an anxious time for those people who had stayed quiet for so long and had handed down that silence to their children. I'm sure they didn't know how to feel. Some people in the community felt that we had instigated the making of the film which caused us a little embarrassment. But mainly they still keep quiet.
"I realise that it wasn't easy for them to look at the film in the same light as those who were removed from the story and who were living elsewhere. My father was glad that the film was made and I would just like the film to have a positive effect on those who watch it – particularly people in Northern Ireland. I truly believe that anything that comes out of it should be positive."
A Love Divided was received well in Ulster – it grossed almost pounds 50'000 in Northern Ireland in its first two weeks.
Despite political and religious difference in the province around one in six marriages are between Protestants and Catholics.The Northern Ireland Mixed Marriage Association believes that the number is slowly increasing. But despite the emergence of peace in the province' many couples still experience intimidation because they have chosen to marry outside of their own religion.
"Northern Ireland May be at a crossroads in terms of peace' but it is still going to be a long time before mixed marriages are acceptable'" said association spokesman Nigel Spiers. Couples still feel threatened – it would be very true to say that some of them choose where they live very carefully.
"When you think of it the two communities in Northern Ireland still have a long way to go before they can fully understand each other's traditions. We can't expect both communities to accept mixed marriages before that happens. So we try to speak to as many organisations as possible in order to help that process along the way. The most important thing for all couples to remember is that there is more than one way of getting married."
In the past when couples from different religious denominations fell in love the main obstacles they came across were family and the clergy. But things have progressed since the association was set up in 1974. The clergy have become more understanding when it comes to mixed marriages.
"In the 1970s and early 80s couples experienced significant problems from clergy of most denominations – they either did not want to assist or give advice on the marriage or they might have taken the stance that if they wanted to get married then they had to come to their church'" said Nigel.
"There was also a lack of understanding among certain clergy of the traditions of different churches. But that is changing – we are making slow progress." Our organization kept in contact with the four main churches during the 1970s and 80s and as a result the Catholic church made some changes in its stance to inter-marriages which makes it easier for them to take place.
"Basically many Catholic priests now deem it to be acceptable for the marriage to take place in a Protestant church if the bride is of that denomination. Couples also experience problems from their own families which can range from disapproval to downright rejection. Then' if the couple can get through the marriage reasonably well' the next problem is raising their children. Integrated education has helped but there are still not enough mixed schools in Northern Ireland so more needs to be done. Our association doesn't have a formula to make a mixed marriage work' but we do make couples aware of ways to make things easier for themselves. Some couples bring their children up as inter-church – that means they experience both religious denominations and cultures. It's no surprise that many of the couples we know have a strong marriage.
"They have discussed many of the issues which could cause problems in their relationship and have resolved them before they happen."A successful marriage has to be about compromise otherwise one partner's wishes will dominate the other's. It's essential that doesn't happen in any marriage' no matter what the denomination.  We have come a long way but more needs to be done in terms of accepting mixed marriages in our society. That's why we work hard to let people know that it's not a sin for two people from different denominations who love each other to get married."
Read full article here…
A love divided - the true story behind the movie
'
Tags: challenges · dialogues · Evening Film Dialogues · interfaith · marriageNo Comments