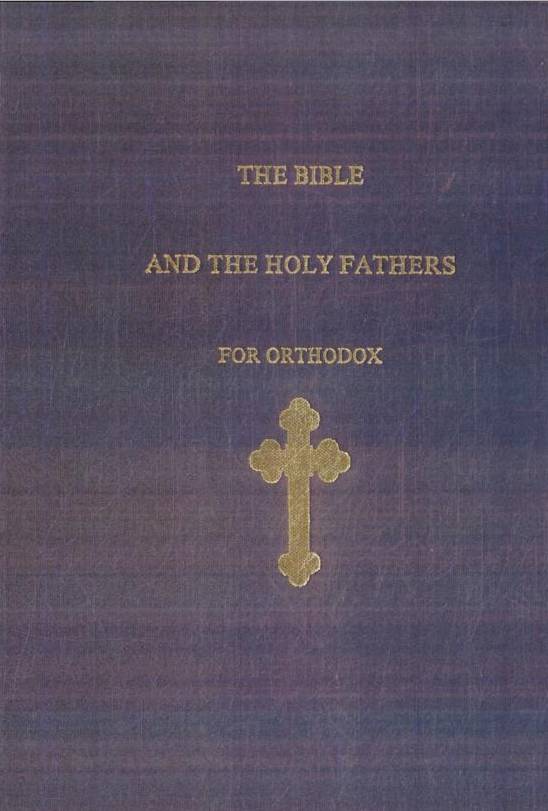 I recently came across this impressive book that features a collection of daily Bible readings according to the Orthodox Ecclesiastical Calendar.
So far nothing exciting' there are many like this. What is unique about this book is that it features commentaries from the Orthodox Fathers. This makes it a unique daily companion for the Orthodox seeker of divine knowledge.
You can read some excerpts here
It is mostly off press but you can stil find it. Click on the photo to find a place to buy it.
Here is what an amazon.com reviewer writes about this book:
This amazing collection of "daily Scripture readings and commentary for Orthodox Christians" was given to me recently. At first I was a bit intimidated by its size' but I'm slowly falling into a habit of reading it' and am inspired often to keep on the road to salvation.

I often use this as a companion with the Orthodox Study Bible' as I've grown accustomed to the New King James used there' and this volume uses a variety of translations. The main benefit to this one is that all the Scripture readings and commentary are in one place.

Although it took me a while to find my way around–as I'm a recent convert and still adjusting to the liturgical year–now I like the way it's organized according to the Church calendar.

Here you will find spiritually deep commentaries from writers like St. Symeon the New Theologian' St. Issac of Syria' St. John Chrysostom' St. Maximos the Confessor' St. Ambrose of Milan' St. Ignatius of Antioch' St. John of Kronstadt' Bede the Venerable' St. Basil the Great and St. Athanasius of Alexandria' to name a few.

This is an amazing volume' and one that I would hope more Orthodox Christians make a regular part of their lives. It would also be of benefit to non-Orthodox who are interested in a more historical and ancient commentary on the Scriptures.
Tags: Bible · books · Holy Fathers · orthodoxNo Comments