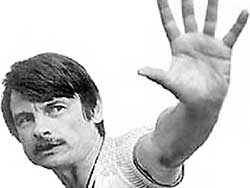 The "Mirror"' the fourth film in Tarkovsky's line-up of 7 cinematographic wonders'  is not made for the casual observer. It has no classic plot' it is anchored in a society that is far' far away' and most of all has no happy ending. Despite all of the above the move has a magical attraction that makes you faithfully watch until it ends when you exclaim: what just happened here? Immediately you have the tendency to over analyze it and to try to read behind the scenes in symbols that are starting to dangerously spin into your head. It doesn't make any sense…Of course' it is not meant that way' it is a movie that' although is not rationally fulfilling' it fills you with sentiments' with strange memories that suddenly become yours' like in a mirror.
I have decided not to try to understand the movie anymore but to experience it to the maximum. So I started to let myself rejoice in the moving poetry of the winf blowing in the Russian plains' to be enchanted by the verses of a father assisting his son to create a work of art' to live again a history that influenced so much my childhood behind the Iron Curtain.
Then I suddenly realized what Tarkovsky meant when he said: I should like to ask you all not to be so demanding' and not to think of Mirror as a difficult film. It is no more than a straightforward' simple story. It doesn't have to be made any more understandable. The Mirror is about life' a life that can be the life of any Russian man' with its harsh and trivial reality  surrounded by a world changing faster than one can absorb.  The movie is indeed a mirror for every one that watches: Ivan can be Andrei' or Igor and why not Boris.
Living in an epic world' in which the story sells the ticket it is very hard to go back to poetry' especially Russian poetry. The Russians have a genetic predisposition to melancholy and sadness' totally opposed to the joie de vivre of the American movie-goer. We owe this to the rationality that demand an explanation and a story from everything we do. But life is not always about the story or the ending'  many times life is about the journey' about how we felt walking through this life as visitors.
A simple story always intrigues' always demands a search beyond the surface but many times is fruitless.  The true stories have nothing to hide. So is the greatest story of all.  A man was born in Bethlehem' he grew and preached of peace and love and the kingdom to come. He suffered and was buried rising the third day according to the Scriptures. This is all there is to this story' anything more than this is really not necessary.
Around us the world is moving in complicated pathways that lead nowhere. Let us experience' not over-analyze our very simple story: Christ is risen' He is risen indeed.
Tarkovsky

'

s Mirror - Stop doing what you think you should be doing
'
Tags: Cinema · mirror · Resurrection · Russian · tarkovskyNo Comments