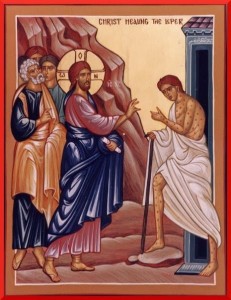 As a follow up on my last post regarding the 10 lepers found this article on another blog and it moved me to tears. How many things like a simple human touch we take for granted…I also understand more how absurd was for the 9 ungrateful lepers not to come and thank Christ for their healing.
Here are some excerpts from an excellent post by Jimmy McCarty about his experience in a leper colony in India:
I shook hands or hugged nearly every leper there. It was so important that they were touched' and that they knew we cared for them enough to break social stigma and touch them. Ever since that moment I do not read the stories of Jesus touching and healing lepers with the same eyes. I know the power my touch had on lepers so I have no doubt Jesus' touch could have enough power to heal them.

I met Maroni as I handed her a snack and gave her a hug. She had a small radio near her playing traditional Indian music' and so I started dancing as I prepared to leave her bedside. She found this hysterical and laughed out loud at me. I grabbed her nub of a hand and we danced for the rest of the song. At the end of the song she was crying' and I was fighting back tears. She said' through a translator' that that was her first dance in over twenty years.

From her bedside I made my way into a single room. I found this odd since most people lay out in large rooms with beds next to each other. In that room I found Jacob. When I met Jacob he was not only a leper' he was blind.

I placed the snacks in what used to be his hands and sat next to him on his bed. He said' "Praise the Lord!" So' I said' "Praise the Lord!" Then he said' "Praise the Lord!" again. So' I said "Praise the Lord!" This went on back and forth for several minutes. I think it's all he knew in English' but it was enough for both of us to have a deep theological conversation.
Read the entire article here
Dancing with Leppers
'
Tags: colony · lepers · mission · touchNo Comments