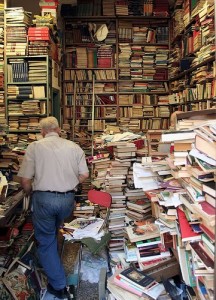 This week I was stuck in an airport due to inclement weather and had to spend a few hours waiting for my flight to arrive. After the initial commotion you find yourself restrained in a waiting room with not much to do. Looking around for a past time I realized that the only things I had with me were:  a Bible' a prayer book and a Greek lexicon. Guess what I did? I read a couple chapters from the Bible' I've said a few prayers and spent some time polishing  my Greek. Wonderful!
What I wonder is that' if I had other choices available' would I have done any of the above? The honest answer is: probably not. The distraction of a TV ' a colorful magazine or even an interesting conversation with a fellow traveler would have distracted me from those things that I was' in a way' coerced to do' but enjoyed tremendously nevertheless.
We can extrapolate this particular experience to the life choices we face everyday in our modern life.  We are invaded with frivolous past times that distract us from the important activities in our lives' and when too many choices are in front of us' we choose' most of the time' the easiest one' the one that demands the least of effort.
When spiritual life is the concern' the situation is even more critical' because the choices of a life in Christ always go through the Cross' and that is never an easy choice. This is why I think that sometimes' actively and willfully restricting our everyday choices May be beneficial for our spiritual development. Even the Bible says there is "a time to keep and a time to throw away" (Eccl. 3:6).
The life in a monastery for instance does not offer too many choices: you pray' work' eat' sleep and that's pretty much it. However this austere environment brings freedom for the seeker of peace because eliminates the need to choose between nonsensical pathways. The way of the monk is free of clutter and therefore he clearly sees' at the end of the restricted life that he himself has chosen' the gates of paradise that awaits to receive him.
Obviously I am not advocating that everyone should become a monk or nun' but it always rests in our power to eliminate the clutter that clogs our lives and keep in only those things that are truly useful for our salvation. If we fail to do so we May found ourselves lost in a labyrinth of choices' unable to find our way home.
The Bible

'

the Prayer Book and the Greek Lexicon
'
Tags: clutter · life · spiritualNo Comments