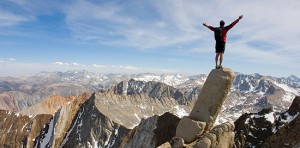 One of the issues that philosophy has spent a lot of ink on is the answer to the question: who we are? Many thinkers have tried to give a proper answer to this basic question' and yet ' despite their efforts' the world is confronted with a huge identity crisis with profound effects at all levels of our society.
In Christianity however' this question is already answered and answered in a very fulfilling way. We know who we are: the Creation of the Most High' fashioned out of His boundless love. Our origin is in Him and this suffices for us. The more important question' as Christians' should be however:  where are we going?
The human life should not be regarded as static' defined by who we are' our life is a dynamic progression towards deification' theosis' focused not on what we are' but on what we can be. The theologian H. Yannaras said once: "the intensity and the authenticity of life is measured by originality and change. The mortal enemy of life is the passive repetition' the routine' the weakness that often hinders man's ability to acquire the new in life."
The Christian way is not a flat' open road' that offers the same monotone vistas along the journey and even the end of the road is no different than its beginning; the way to salvation is a treacherous ascent with dangers at every step' but offering the greatest reward when' sitting on top of the mountain' one meets God.
A person that is not happy of any current condition will look for change' will foster transformation. A sick person will want to be healthy' a weak would like to be strong' a poor to be rich and so on. The difficulty' for the rest of us' is that we live with an illusion of normality' the illusion that we are fine and we don't need anything else. This is a very dangerous place to be' because in our current status of fallen mankind' we are in a position of involution' we are inferior to our potential and what we call today life is nothing but a shadow of what it can be in Christ.
If we fail to reach out towards our potentiality in God' we essentially fail as human persons missing the call "be ye therefore perfect' even as your Father which is in heaven is perfect." (Matthew 5:48) Our fulfillment as persons is not realized through education' career' successes.  We cannot achieve anything worthy outside of God. This is but an illusion that has been served to us from the very beginning by the crafty devil and is still served today at every step of the way. Our true personhood is revealed if we let ourselves be united with God' and in Him' reflecting ourselves as in an honest mirror' we discover more than just who we really are' but more importantly who we are called to be.
Any responsible Christian should ask the question: how can I become more' rather than simply affirming I have reached a good level of life. This is why the Publican was found greater than the Pharisee in the synagogue. The publican wish of repentance' his will to evolve into a better person' is what lifted him up above the boasting and self-sufficient Pharisee.
This continuous aspiration towards bettering ourselves should not be with us only when we sin' when we feel down' but even when we do good things we should always strive for more' to get yet another step closer to our perfection in God." So likewise ye' when ye shall have done all those things which are commanded you' say' `We are unprofitable servants. We have done that which was our duty to do.'" (Luke 17:10)
This is the driving force of Christianity' unceasingly moving from an empty image of God into His very likeness' from a resemblance to an identification in Him' an identification that has to go through accepting the cross of a responsible Christian life: "I am crucified with Christ: nevertheless I live; yet not I' but Christ liveth in me: and the life which I now live in the flesh I live by the faith of the Son of God' who loved me' and gave himself for me." (Galatians 2:20)
Always forward looking
'
Tags: Ascension · christian · dynamic · mountain · orthodox · progress · transfigurationNo Comments