Most parishes in the United States have a designated parking spot for their priest' usually somewhere close to the Church's entrance.  The reasons are understandably practical. In reality this space proves to be an apple of discord and a stepping-stone for many that dream to park just inches away from the building. Nobody dares however to park there if they know the priest might be stopping by. But as soon as the danger of being caught ebbs away there will always be someone that will take up that spot.
You might already be asking yourself at this point' is it I that Father is complaining about? Guilty or not' this article is not about my frustration of finding out that my spot was taken. I don't care about my spot' the only reason I park there is so the people would know I am in church. Rather this article is about how we act when an enforcing authority is not present.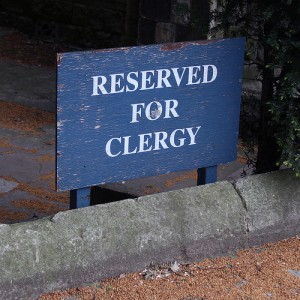 To further illustrate my point I will use another story. In a remote Village in Romania there lived a man that every night was going out in his neighbor's field and steal his crops. He was very careful not to get caught and was very vigilant. One night however' due to some unforeseen circumstances' he had to take his innocent daughter along with him. So they woke up a tad after midnight and off they went to steal the crops. When they approached the field' the father looked to the right' to the left' in front and behind them to make sure no one is following them. As he was getting ready to start loading his cart with stolen goods' his daughter taped him on the shoulder saying: Dad' you forgot to look in one direction. Which one? Asked the ever-careful dad. Up' where God is! Said the daughter.
With Church attendance the way it is the majority of Christians only come to Church on Sundays and others even less than that.  This leaves us with a lot of time where the perceptible enforcing authority of the Church cannot reach us. We are on our own' free; able to do anything we want. It is under this freedom that we commit most of our trespassing acts. It is out of this false sense of independence that we stray away from the path of salvation.
As good Christians however' we should never doubt the fact that an ever-watchful God is always present. There is no hiding from Him. "If I say' "Surely the darkness will hide me and the light become night around me'" even the darkness will not be dark to you; the night will shine like the day' for darkness is as light to you." (Ps 139:11-1'). He sees in the innermost of our souls and knows all the demons that torture us in our most concealed moments.
The omnipresence of God should be our first layer of defense against the temptation of sin. Knowing that God sees everything should increase our watchfulness and lead us toward safer ground. "The fear of the Lord is the beginning of wisdom' and they who live by it grow in understanding." (Ps 111:10) The fear of condemnation should not be our ultimate motivator' however.
Jackson Brown' Jr' a contemporary motivational writer' is quoted to have said: "Our character is what we do when we think no one is looking".  We tend to wear a social mask in the presence of others: a pious mask at Church' a friendly mask at work' a smiling face while dealing with clients. We want people to perceive us better than we are.  Though I understand the social need of being nice to the people around' wearing a mask May also hide a rather not so pleasant self:  "The scribes and the Pharisees sit on Moses' seat; therefore' do whatever they teach you and follow it; but do not do as they do' for they do not practice what they teach. They tie up heavy burdens' hard to bear' and lay them on the shoulders of others; but they themselves are unwilling to lift a finger to move them. They do all their deeds to be seen by others; for they make their phylacteries broad and their fringes long. (Matthew 2':1-7).
Looking good does not equate with actually being good. Even when no one is looking' and when no one is there to enforce a moral code' we are still Christians' called to take up our crosses and follow Christ on His ascent to heavens; called to give up the vengeance for a lost eye and turn the other cheek; called to forgive our debtors and lend with out interest' and' most importantly' called to love all people' including our enemies' in the same way as Christ has loved us and has sacrificed Himself for us.
It is this sacrifice of love that should make us follow Him' even when we feel that we might unnoticeably skip a commandment or two. The fear of God is only the beginning of wisdom; the fullness of wisdom is to strive every day to achieve true Christian character' to reach "the measure of the stature of the fullness of Christ". (Ephesians 4:1'). Only then we will finally become our true selves' masks aside' open to be united with Him' as He intended from the beginning of the world.
Parking in the priest

'

s spot or what do we do when no one is watching?
'
Tags: character · christian · morality · no one is looking · orthodoxNo Comments