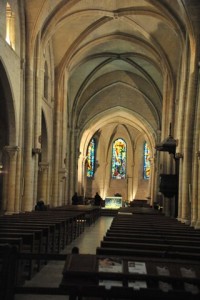 Visiting Paris' the city of lights' is a wonderful experience' anytime of the year. The boulevards' the Arc de Triomphe' the Eiffel Tower and even more so the great cathedrals: Notre Dame' Sacre Coeur' Saint Sulpice and so on' attract visitors like flies. From a tourism perspective it is wonderful to see these great historical churches full of people all day long. But if you cast a closer look and try to find the people that enter to actually pray' you soon realize that the flock is very small for the grandiose size of the gigantic stone and marble monuments.
In contrast' during a recent trip to the same city I've been blessed with participating in the Patron Feast day of an Orthodox Church in the outskirts' very modest compared with the great cathedrals of the capital' but the church was full to its brims of the great crowds that came to worship in it.
By bringing up this contrast' I am not trying to brag about the Orthodox faith' or denigrate the Western Christianity in any way' but these are facts anyone can see. The percentages of church attendance in the Western Churches have drastically dropped; in some places even to single digits. France is not an isolated example: Germany' UK' Spain' Italy' they all face a great secularization of their societies that has emptied the churches and transformed them from places of worship in mere museums' preserving the distant memory of a deserted faith.
The era of lights' originating in the revolutionary France' has opened great avenues to scientific discovery' but' in the same time' has deeply affected Christianity. The mass destruction of churches and persecution of Christians' both in revolutionary France and in its granddaughter in ideology' Bolshevik Russia' bears great witness to this truth.  In the societies that ensued' solely based on human rationality and hubris' there was little to no place left for worship. Man believed to be the sole maker of his destiny without the interference of a distant or absent God. The premise of the revolutionaries was that following the Church was wrong' that God either does not exist or doesn't care and Man can build his own society based on what's good for him and not for God. The failure of soviet Russia and the spiritual impasse of our current Western society proves them wrong again and again.
The churches are empty but this does not mean that people don't need God nowadays' it only means hat they have no clue where to find Him. They try to find him in a material world' filling the shopping malls rather than the churches' living for accumulation of things and entertainment rather than acquiring the Holy Spirit. Despite their efforts none of the above are able to quench their thirst for true spirituality.
The Western Church has tried to answer this problem in many ways' but mostly by trying to adapt Church matters to the "new" needs of the modern Man: shorter services' secular music' entertainment etc. But this has also proved unsuccessful. Bringing the world into the Church was doomed to fail; one cannot fill a spiritual gap by throwing more material things at it.
What the Orthodox got right is that change does not necessarily answers the problem. After all the basic needs of Man May be expressed differently today' but all in all they have not and will not drastically change. The Church is not here to adapt but to preserve that which Man has forgotten: the fact that there is no true existence outside of God. Man was made to be with God and only in this relationship is he fulfilled. Separating from God is death because man is made to be in Communion with God' not in isolation. God is foremost a Trinity of Persons in a perfect relationship with each other and we are called to participate in it as subjects of God's love.
We come to Church because we need to work on this relationship. We worship God not because He wants us to' but because in this way we get close to Him. We understand theology not as a science aspiring to understand God' but as an unmediated experience of God through prayer.  Church is a hospital for the sick where we all come to receive His healing Grace through the Sacraments.
The purpose of our creation is to be in God's presence' now and into eternity; there is no work-around it. This is why atheism and secularism are not only anti-God they are also anti-Man' because they fail to recognize this fundamental truth. The secular Man needs to repent (to be read as the Greeks understood it' as a change of mind' metanoia) and start anew his relationship with God' the only thing that will make him whole again.  I pray therefore that the voice of the one calling in the desert "Repent for the Kingdom of heaven is at hand" will be heard by our brothers in the West' and this will bring a wind of change that will melt people's hearts and the great cathedrals will be filled again with the people of God.
The Empty Churches of the City of Lights
'
Tags: Christianity · church · empty · full · orthodox · Paris · WestNo Comments