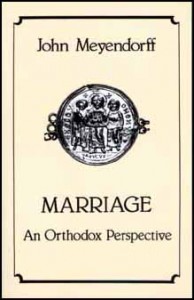 Marriage' an Orthodox Perspective – Fr. John Meyendorf
An excellent study on Christian marriage of the former dean of St. Vladimir Seminary that represents a valuable resource for anyone seeking to understand the Orthodox perspective on marriage. In it John Meyendorff examines marriage in the Church from the contexts of Judaism and the New Testament' the early Church and Roman law' sacramental life' and contemporary society. Specific issues discussed  include: second marriages' "mixed" marriages' divorce' abortion' family planning and responsible parenthood' married clergy' celibacy' and the monastic life. Essential reading for all pastors' it is also useful for parents' newlyweds and those preparing or the sacrament of marriage.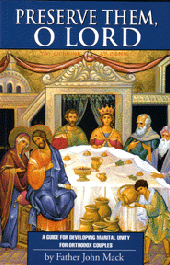 Preserve Them' O Lord: A Guide for Orthodox Couples in Developing Marital Unity – Fr. John Mack
A guide for Orthodox couples in developing marital unity: premarital counseling for engaged couples; marriage enrichment for those who are already married; the development of an Orthodox understanding of marriage for those new to the Orthodox Faith.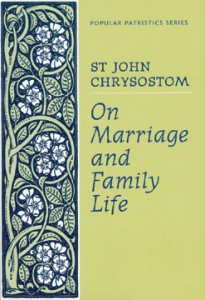 On Marriage and Family Life – St. John Chrysostom
Christian tradition often seems to give only grudging approval to the married life' particularly its sexual aspect. In these sermons of St John Chrysostom we find an important corrective to this view. Although himself a monk' Chrysostom had a profound understanding of the needs of his congregation. Inspired by the epistles to the Corinthians and Ephesians' he discusses their reasons God instituted marriage " primarily to promote holiness of the husband and wife' and only secondarily to produce children.
Chrysostom goes on to discuss sexual relations' the mutual responsibilities of marriage' and parenting. While parts of Chrysostom's sermons May seem limited to his own time' the vast majority of his advice has timeless relevance for the Christian family.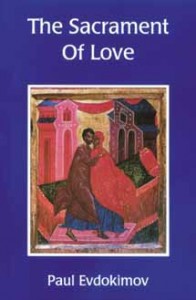 The Sacrament of Love – Paul Evdokimov
For Paul Evdokimov' the conjugal union of man and woman in marriage is an image of God in Trinity " a relationship of persons united in love' thus realizing their one nature. But' since the Fall' only Christ can truly reconcile man and woman and bring about the harmony of Eros and the person. The sacrament of marriage regulates the communion between man and wife in all its sacramental fullness. True love is fruitful' but this fruitfulness is not only expressed through children; in can also be manifested through hospitality' through service' and sometimes through a common creation.
The Sacrament of Love is a unique reflection on marriage' as well as on monastic and non-monastic celibacy. It places the relationship of man and woman within the context of the most perfect relationship of persons: the Trinitarian communion of the Divine Persons.
Eros and transformation – William Bell Zion
A more difficult but rewarding lecture. This book is a comprehensive exposition of Eastern Orthodox view of marriage and sexuality ethics including biblical' liturgical' and theological discussions of marriage' divorce' homosexuality' contraception' and masturbation. This work seeks to integrate a critical examination of the Orthodox tradition on these questions in a dialogue with modern clinical knowledge and contemporary Catholic moral theology.